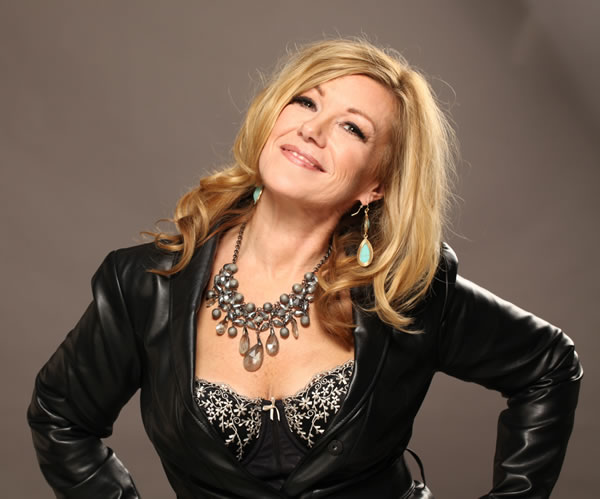 Jane Bolduc – The LA Weekly describes her a singer "with a voice like a prairie tornado." That's accurate… but it's not all.
Born in Connecticut, Jane was a singer and performer long before she'd ever set foot in Los Angeles. Singing in church segued into musical theater segued into work as a singing waitress, traversing musical landscapes from gospel to blues, show tunes to standards, country to folk.  Towing the suburbia line, she got married and worked a day job, while still keeping her toe in the musical waters.
When her marriage ended with a shock after only a few years, Jane ended up in LA.
Her arrival coincided with a singer-songwriter renaissance. At a workshop taught by Rosemary Butler (long-time LA session and background singer), she found her musical tribe who encouraged her to write her own songs. Jane was half-way there already: she'd been journaling as a way to exorcise demons she thought she'd left 3,000 miles behind her. The songs of Mary-Chapin Carpenter, John Gorka, David Wilcox and Shawn Colvin furnished early inspiration.
Her first song was the bracing "Missionary," in which she confronts both the man she can't change and her own lack of self-respect for trying so hard. Full of swagger and simmering emotion, it would have been no small accomplishment had it been written by a Melissa Etheridge or an Aimee Mann. It's a remarkable song by any yardstick, and one she still performs.
More songs came as she wrote on waves of emotion: "Renegade Heart," in which she wakes up and burns rubber away from domestic predictability; "Benefit of the Doubt," which skewers a player who neglected to mention that he was married; and the searching, gospel-tinged optimism of "How Do I Get There From Here?" And riding on those waves of emotion, the songs keep on coming.
Whether performing solo acoustic or with a full band at venues like LA's legendary Troubadour, The Bluebird in Nashville, Berklee Performance Center in Boston, at festivals from New York to Texas to California, or in more intimate listening rooms, Jane delivers her songs with a verve, passion and immediacy that moves the listener, in the moment.
Jane's latest CD—her first full-length effort—is called Real Live Girl. Its title song is a message that will resonate with anyone who has tired of the media's airbrushed version of "beauty."
Real Live Girl is the culmination of several years' work and it's got everything you've come to expect from Jane: honesty, emotional range, melodic flair and the whisper-to-a-wail vocals that prove she can still bring that tornado. The arrangement and production, though full and sympathetic, never overshadow the most important factor: the songs.
And it's through her songs that we really come to know the artist.
Jane Bolduc lives in Los Angeles and sings (and writes) as if her life depended on it.
Bio written by Steven Neal Wagner